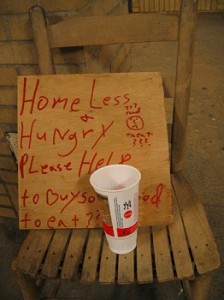 Matthew 25:35-40  "for I was hungry and you gave me food, I was thirsty and you gave me something to drink, I was a stranger and you welcomed me, I was naked and you gave me clothing, I was sick and you took care of me, I was in prison and you visited me.' Then the righteous will answer him, 'Lord, when was it that we saw you hungry and gave you food, or thirsty and gave you something to drink? And when was it that we saw you a stranger and welcomed you, or naked and gave you clothing? And when was it that we saw you sick or in prison and visited you?' And the king will answer them, 'Truly I tell you, just as you did it to one of the least of these who are members of my family, you did it to me.'" (NRSV)
---
At White Haven United Methodist Church, there are a variety of ways we are involved with helping others in our community:
Sponsored by the White Haven Ministerium 
Vacation Bible School
Community Lunch Program: Lunches are served Mondays, Wednesdays, and Fridays at 11:30 am at St. Paul's Lutheran Church in White Haven.  Our church is responsible for volunteering the 3rd Friday each month.
Food Pantry: In our Narthex, we have a food donation cart set aside every Sunday for any offering brought in to help stock the shelves of the White Haven Area Food Pantry. Items can also be dropped off at any of the local churches in White Haven. Items needed for the food pantry are ketchup, mustard, pancake mix, syrup, jello (diet and regular), and saltine crackers. The White Haven Food Pantry staff can be contacted at (570) 507-7444 (please leave a message and someone will call you back) or by email at: white.haven.food.pantry@gmail.com. If you prefer to make a monetary donation, please make checks payable to White Haven Food Pantry and mail them to: PO Box 12, White Haven PA 18661, or any of our Pastors in the White Haven Area Churches can forward the check for you. All donations are welcome and appreciated!
If you have any questions, please reach out to any of the Pastors in the Ministerium:
* Pastor Joanne Walker, White Haven Center
* Pastor Brook Selby, Mountainview Community Church
* Pastor Lynn Rothrock, St. Paul's Evangelical Lutheran Church
* Father Mike Kloton or Sister Jane Gaughan, St. Patrick's Parish
* Rev Sarah Fernsler, United Methodist Church
* White Haven Presbyterian Church
---
White Haven United Methodist Outreach Opportunities
Military Care Packages: 

Once a year we collect a list of goods and goodies to send to our family and friends who are serving in the military.  It's a full circle blessing that keeps us all connected.  More information on this will be posted soon in the coming months.
Christian Motorcycle Fellowship – local chapter, His Glory Riders: We support the local chapter of this exciting outreach fellowship of brothers and sisters in Christ by way of donations.  A few members of our own congregation put on their riding gear and join with other motorcyclists to bring the Word of God into our communities and out to other motorcyclists who may not know the Gospel. Their annual 100-mile run is known as "Run For the Son."  One hundred percent of the money raised goes toward missions and evangelistic outreach.  For information on our involvement, please call us at (570) 443-7153.  For more information on the Christian Motorcycle Fellowship – His Glory Riders chapter, please note this direct link: His Glory Riders